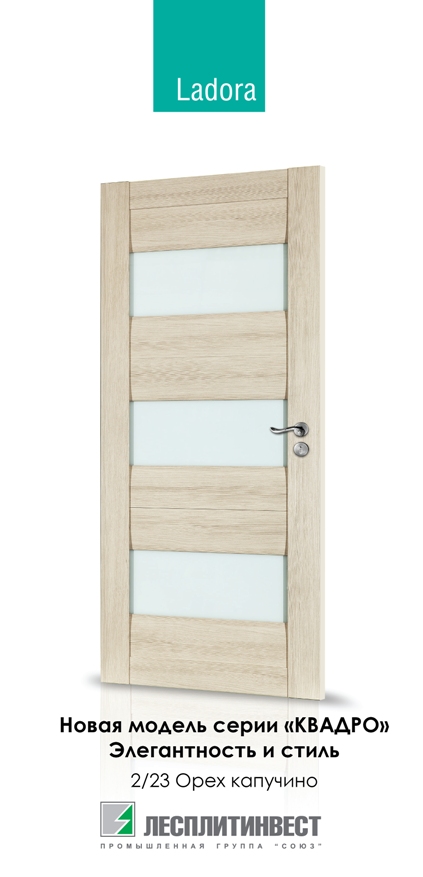 News
SibBuild 2016: Ladora shoes class!
In February, 9 - 12, "Lesplitinvest" again met the visitors of SibBuild exhibition in "Novosibirsk Expocenter" International Exhibition Center. Participation in the event became a remarkable opportunity to set the pace for the whole year. The same occurred this time again: the exposition of any enterprise of "Soyuz" Industrial Group could be easily recognized by a large number of guests interested in collaboration.
Two collections, QUADRO and EGO, were brought to the attention of visitors: classic and modern, austere motives and airy structures. 2/36 model is the most liked; in 2016, the model divided this title with 2/33 and 3/1. Classis motives of door panels realized in modern style are combined with various kinds of glazing: from simple opaque one to design and glass fusing.
Ladora brand is being dynamically developing and constantly enriching its assortment. This year did not become an exception: the visitors evaluated novelties in white ash and African nut decorations. 2/31 model: wide door panel and original "stained-glass glazing" resemble of classic solutions and, maybe, even of Provence, while for those who prefer solid panels, we have offered the 2/32 model. Traditions and originality on expressive facets of the shaped edge panel can effectually complete the most unexpected interior decisions.
Apart from European assortment and the respective design of door panels, the products by "Lesplitinvest" are eminent for their overriding performance specifications. Stability to absolutely various impacts, from ultraviolet to mechanical damages, allows door panels remain unchanged for many years. Add here innovative approach towards manufacturing process and competitive pricing, and you'll get doors of new generations: Ladora doors.